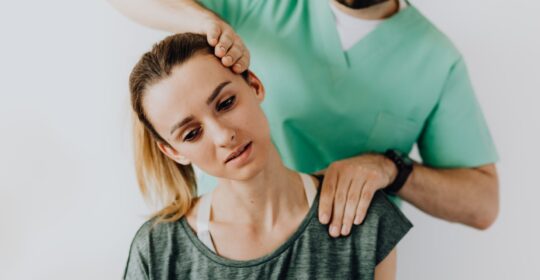 Whether you've suffered a minor injury like a sprain or more severe damage like a brain injury, the pain from a car accident can have a big impact on your life. Seeing a physical therapist in Queens, NY can help you manage your pain and get back to living your life. Here's why you should visit a physical therapist after a car accident.
It Can Help You on the Path to Recovery

Recovering from a car accident can be a long and difficult process. In fact, some people don't even realize that they've been seriously injured until much later on due to shock. Physical therapy for car accident victims can help you find relief from some of the most common injuries that result from auto accidents, such as:
Neck injuries

Whiplash

Sprains and strains

Fractures

Broken bones
It's imperative that you visit a physical therapist after a car accident, even if you don't think that you've been seriously injured. In addition to helping reduce symptoms, physical therapy can also improve your flexibility and strength.
It Can Prevent Lasting Damage
Although you may not feel too much pain after a car accident, it may worsen without treatment. In fact, many people experience delayed pain after their accidents. Some of the most common types of long-term damage include:
Memory issues

Paralysis

Cognitive problems

Chronic pain

Herniated disks

Reduced movement
In addition to these effects, one study found that people who didn't seek physical therapy right after a car accident were more likely to suffer from degenerative disc disease. This is a condition that can cause weakness, numbness, and pain in the leg.
It Can Prevent You From Having Surgery

While surgery is sometimes unavoidable, there are plenty of instances where it isn't necessary, especially if your injuries are properly treated. Physical therapy after a car accident speeds up the healing process by strengthening muscles, ligaments, and tendons. Although physical therapy is a longer process than surgery, it's a more affordable option and doesn't come with as many risks. The length of time you see a physical therapist varies, but you can expect it to take up to eight weeks. Some factors that can affect this time frame include how long it takes for your pain to improve and if you can continue performing the prescribed exercises at home.
It Can Help Reduce Pain

One of the most obvious benefits of physical therapy for auto accident victims is that it can help reduce pain. It may sound counterintuitive, but remaining active after your accident can actually relieve pain by preventing muscle and joint stiffness. As an additional benefit, moving your body sends essential nutrients to the injury site, which can speed up the healing process. This is why physical therapy is a more effective option than bed rest.
If you're interested in auto accident physical therapy in Bayside, our team at Bayside Physical Therapy in Queens, NY is here to help you. Our highly specialized treatment program targets all types of pain, from acute to neuropathic. Contact Bayside Physical Therapy today to learn more.
Leave a reply →